Best seller
Coursera Google IT support Course
The course is intended to provide training in IT support, allowing people to land entry-level jobs in the IT sector. The Coursera Google IT Support course, comprises of over 64 hours of video-based lectures, along with hands-on projects called interactive assessments. The idea behind these hands-on lab assignments is to give a sound understanding to the learners about the work demands.
It covers areas such as customer service, troubleshooting, system administration, networking, automation, security, and so on. Once a person completes the course and obtains certification, he/she has the option of opting in to share their data with certain big employers like Sprint, UPMC, PNC Bank, GE Digital, etc. This option is provided with the intent of helping the learners to land a job on completion of the course.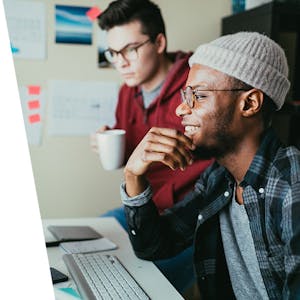 Course Pricing
Generally, the pricing of the Coursera Google IT Support, course amounts to $49/month. However, Google has provided financial support for over 10,000 individuals in the U.S., allowing them free access to the program. All you have to do is to apply for financial assistance to the Coursera Google IT Support page. Selected individuals can go ahead and get themselves enrolled.
The partnership between Google and Coursera has birthed the unique certification program called the Coursera Google IT Support course. It is a great opportunity for anyone who is looking to enter the IT domain. The distinct feature of this program is that it does not make any presumptions about your knowledge, allowing you to start from scratch.
Whether, it is first-timers, trying the grasp the basics, or professionals who are looking to brush-up their fundamentals, this 8 to 12 months course is just the doorway for you to step into the IT arena.
Superb for IT support career
The whole program is divided into 5 different courses, making it easier for beginners to transition from one phase into the next. The timings of the classes are flexible, allowing stay-at-home mothers, professionals, and students to take advantage of the Coursera Google IT Support. The teachers are engaging and explain complex concepts with simplicity and clarity. The course is cost-effective while being a decent take-off plank for a successful career in the IT domain.
PROS
Do not require any pre-requisites and is an extremely easy step-by-step course for beginners.
Covers all aspects such as technical support, networking, operating systems, IT automation, IT security, and many more.
Practical application is taught through labs, making it more useful than just a theoretical course.
Users are familiarized with servers under system administration, giving them exposure in handling servers.
CONS
10 to 15 seconds of the beginning of the video lectures are spent recapping your progress, which can get redundant sometimes.
Very much for the beginners, experienced personnel might find it too easy.
Specification:
Coursera Google IT support Course
| | |
| --- | --- |
| Completion Certificate | Yes |
| Course Duration | Self Paced |
| Course Language | English |
| Cousre Access | Coursera membership |
| Level | Beginners |
| Mode | Online |
| Personal Career Coach | No |
| Platform | Coursera |
| Subtitles | Arabic, English, Portuguese, Spanish |